Another year, another convention! America's most highly anticipated convention, Anime Expo, is taking place this weekend in Los Angeles, California, from July 1st through 4th. I, Cowfee, will be attending AX once again this year as Press for VNN. In fact, I am typing from the convention center at this very moment!
Events
While this year's plans aren't packed with as much VOCALOID goodness as the previous ones, there are still a couple of events you should be on the lookout for.
Miku Concert Screening
Category: Screening
When: Sunday, July 2nd / 3:30 PM – 5:00 PM
Where: Video 2 (JW Marriott Diamond Ballroom)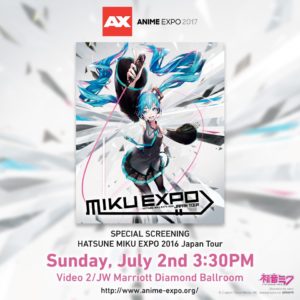 Category: Featured Event
DJ Line-up: Hachioji-P, BIGHEAD, & Orkestrate
When: Sunday, July 2nd / All Ages: 7:00 PM – 9:30 PM / 18+: 10 PM – 11 PM
Where: AXDance (Concourse Hall F – 152)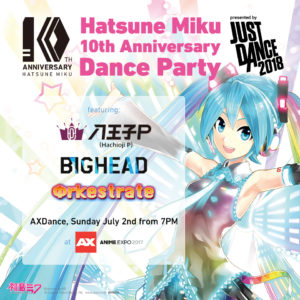 Interviews
There will be several influential, well-known individuals within the community who will be in attendance, from DJs to Guests of Honour. As such, I have reached out to many of them and arranged interview sessions during the con. Here is the current known list of the individuals I will be interviewing, though it does not include those who I've officially applied for through AX Press as that information is not yet available. Thus, this list is subject to change. (UPDATED: July 4th, 2017)
Look forward to the articles and video interviews to be released soon!
Buttons
If you are planning to go to the con and happen to see me, don't be afraid to come up and say, "Hello!" For all four days of the event, I will be distributing VNN buttons to fans of VOCALOID, vocal synthesizers, and VNN alike. There are 14 different designs you may choose from, but hurry because stock is limited!
It may be difficult to recognize me in the masses of people, but you will definitely find me at the VOCALOID events. I will also be wearing a VNN T-shirt all day on July 2nd.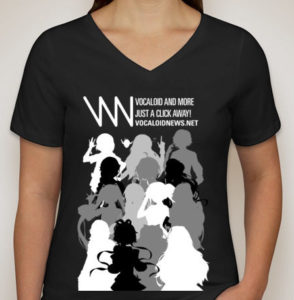 Be sure to follow me on Twitter @cowfeenmoosic to see updates on my location as well as any of the other events I will be attending. Hope to see you guys there!