Hello. I'm NAT, one of the article writers and editors from VNN Japan. Today, I'd like to report on the sights and sounds from the Hatsune Miku 10th Anniversary PPP-Party in AEON.
The event took place from Saturday, June 17th to Sunday, June 18th at the AEON Mall LakeTown location in Koshigaya City, Saitama, and was a celebration for Hatsune Miku's upcoming 10th anniversary. I myself went there on the 18th and have a lot to share, so let's get to it.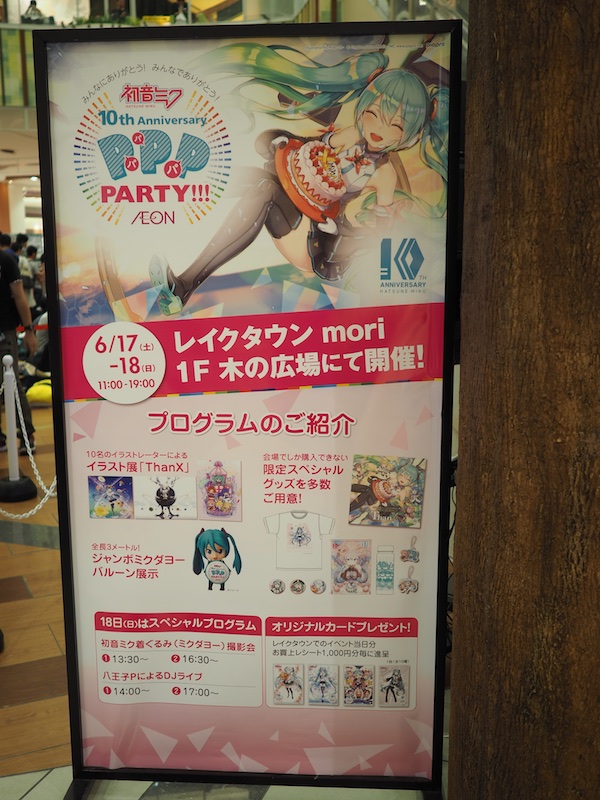 Jumbo Inflatable Mikudayo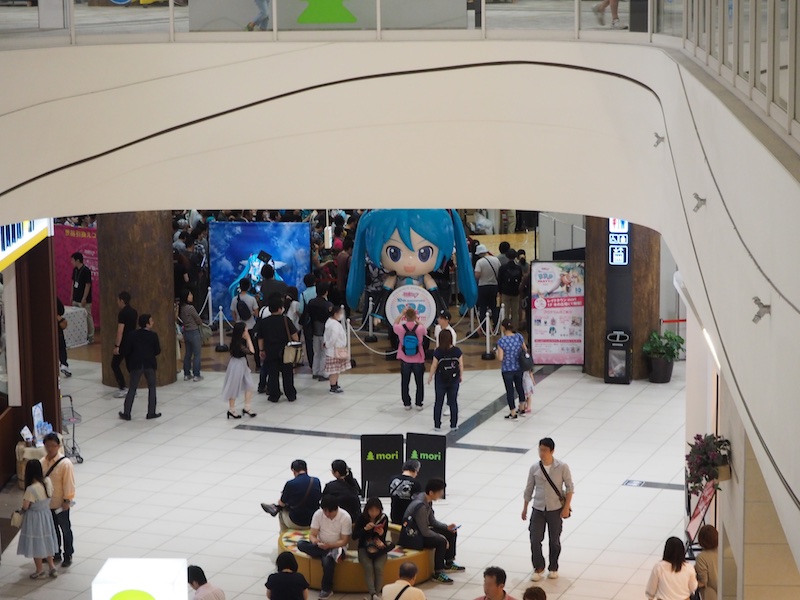 The first thing that caught my eye was the roughly 3-meter tall jumbo Mikudayo balloon. Even from a distance, she really stood out.
And up close, she looked downright huge.
Life-size Hatsune Miku Figure
Speaking of big, there was also a life-size figurine of Hatsune Miku sprouting angel wings.
Illustration Exhibit "ThanX"
One of the highlights of the event was an exhibit showcasing "Hatsune Miku 10th Anniversary" celebratory works from no less than 10 different artists. Check out my pictures below.
Official Theme Song & Piapro Introduction Display
One of the TV monitor displays that was set up at the event was playing the music video for the event's official theme song, "TODAY THE FUTURE."


There was also a separate monitor showing some of the many different fan art that have been uploaded onto Piapro.
Piapro Wall
Also from Piapro was a special wall on which anyone was invited to draw their own illustrations of Miku and/or write her a "Happy 10th Anniversary" message.
Mikudayo Photo Op
Mikudayo wasn't just there in jumbo balloon form; she was there to take the stage for a photo op as well.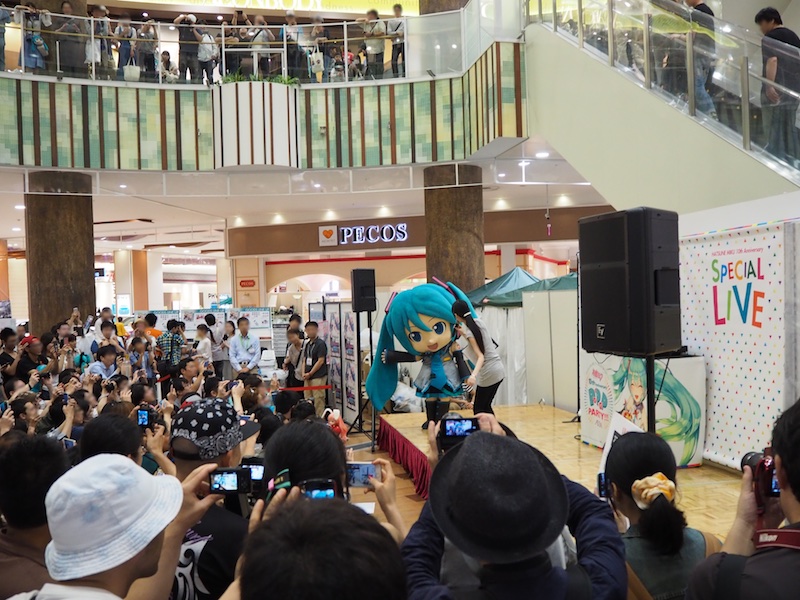 HachiojiP DJ Concert Performance
Later on said stage, none other than HachiojiP performed a live DJ concert event for all to see and enjoy (note that these photos of the scene were taken before the concert began).
The stage floor wasn't your typical dark and dank nightclub setting. Far from it, it was a bright and open shopping mall plaza, a rare place for a DJ concert. Even with regular mall shoppers coming down the escalators and staring at them, the audience wouldn't let that dampen their excitement from listening to classic Miku songs being performed for them by a live DJ. I myself got a particularly big kick out of listening to HachiojiP performing a mashup of "ECHO" and "Sweet Devil," as well as a full version of "Kimagure Mercy."
Conclusion
With its amazing illustration display, live DJ concert, and more, I had an absolute blast celebrating Hatsune Miku's 10th anniversary at the PPP-Party in AEON event in LakeTown.
If you enjoyed reading my report of the Hatsune Miku 10th Anniversary PPP-Party in AEON, then look forward to more of such event reports very soon!