Anime Expo is this weekend! And, of course, no AX attendee who loves VOCALOID wants to go home without any merch! Luckily, there's a ton of VOCALOID Merch at Anime Expo! There's Miku and IA galore, as well as some older figures from Good Smile Company!
Hatsune Miku Merch
With Miku's big 10th anniversary right around the corner, it's only natural to expect some Miku goodies. You'll want to check out Booth #1930 for some Miku 10th anniversary merch as well as some 2016 tour goods and more! And there are free stickers with every purchase! Here are the announced items:
10th Anniversary Goods
T-Shirt featuring the illustration by KEI ($30)
Wall Scroll featuring the same illustration ($30)
Keychain ($10)
Miku Expo 2016 Merch
Sunglasses ($5)
Snapback ($5)
Tote Bag ($5)
Blind Back Pack ($60) [Includes: 1 Backpack, 1 Sweatshirt, 1 T-shirt, 1 Hat, 1 Wristband, 1 Sticker Sheet, 1 Pouch, and 1 Keychain]
Blind Poster Tube ($15) [Includes 2 Posters]
If you'd like to see higher quality images of the Miku Expo 2016 merch, check out the official goods website here. If you see something not listed for sale at AX (or if you're not going to AX), the website is accepting purchases!
Squishable
15″ Squishable ($45)
Micro Squishable ($10)
Gallery Nucleus Art Catalog
While not mentioned in the sales menu, art catalogs from the Miku Gallery Nucleus art exhibition will also be available! It's online price is $25 so expect it to cost somewhere in that range.
HachiojiP and BIGHEAD Goods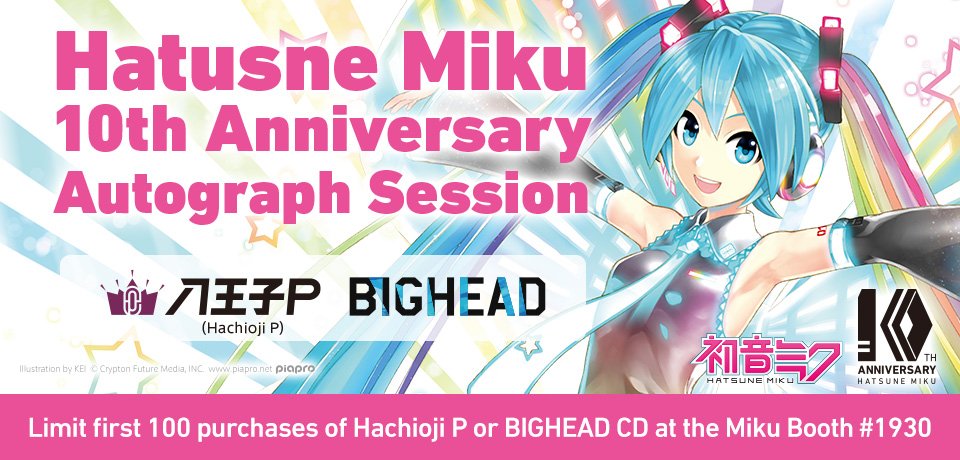 These are also available at the Miku booth (Booth #1930)
The first 100 purchases of a HachiojiP or BIGHEAD album will receive a ticket to a free autograph session!
HachioujiP
Eight -THE BEST OF HachiojiP- Limited Edition ($45)
Eight -THE BEST OF HachiojiP- Standard Edition ($35)
T-Shirt White ($35)
T-Shirt Black ($35)
Towel ($25 Each) [Choice of Blue or Purple]
Silicone Wristband ($5 Each) [Choice of Red or Black]
BIGHEAD
"REWIND '93" AX2017 Edition ($15) [Special Limited Edition Cassette Tape]
"RELOVE" feat. Hatsune Miku ($20)
"RELOVE" feat. Hatsune Miku T-Shirt ($40)
"ONLY 1" feat. Hatsune Miku ($20)
"ONLY 1" feat. Hatsune Miku T-Shirt ($40)
"01 FRIENDS" feat. Hatsune Miku ($15)
"01 FRIENDS" feat. Hatsune Miku T-Shirt ($40)
"01 FRIENDS" feat. Hatsune Miku Long Sleeve T-Shirt with Music DL Card ($75)
Good Smile Company
It seems like Good Smile raided their warehouses, because their AX lineup has some pretty old figures! If you've been trying to find some older VOCALOID figures brand new, here's your chance! And, of course, they're also carrying the newer must-have items as well. You can check them out at Booth #1600.
Tickets will be required to purchase from the booth. Tickets are limited in number so please be sure to stop by the booth (#1600) early to get a ticket! You can read the full ticketing information here.
IA and Kagerou Project Goods
Visit JapanWave Booth #4909 and get your official IA and Kagerou Project goods!
VNN Goodies
Have you been eyeing up our con announcements showing off our sweet pins? Stay tuned to VNN for an announcement on how to grab some at AX! (Hint: You'll have to find CowFee!)
---
Sources: Good Smile English Post 1, Good Smile English Post 2, Vocaloid Buy Blog