After much anticipation, my VOCAMERICA Kickstarter goods finally came! I, Hoshi, have been so excited for these ever since the Kickstarter, and the hype has only been growing. I pledged for the Diamond Package which we covered here. However, the package holds so many goods that I'm splitting the review into a few parts. The first part of my VOCAMERICA Merch Review is the soundtrack: VOCAMERICA Official Soundtrack: The Debut!
The Album
While I've been listening to the album for a while now thanks to the digital download, I had to wait for the Kickstarter rewards to come in for the physical version. And I absolutely love it! The cover art was drawn by Misha, the voice provider of the English VOCALOID RUBY. The album includes songs from the first VOCAMERICA concert as well as other songs that may be included in the concert in the future. There are originals, covers, and even remixes in the album.
The Case
Fans chose a wallet design case for the album. When you open it up, you'll see a little pocket on either side. The left holds the lyrics booklet, signed by EmpathP, and the right holds the actual CD. In addition, the album comes in a protective plastic bag that you can reseal to keep any pesky dust out. Since actually using CDs has become a thing of the past, this is a really nice addition. Now I can pull the album out and look at it whenever I want and protect it when I'm not using it!
"Thank You" Message
In addition to the lyrics in the booklet, EmpathP also leaves a message of thanks and lists all of the Kickstarter backers at the end of the booklet. The list of backers takes up about four pages! It really shows just how many fans came together to support the project.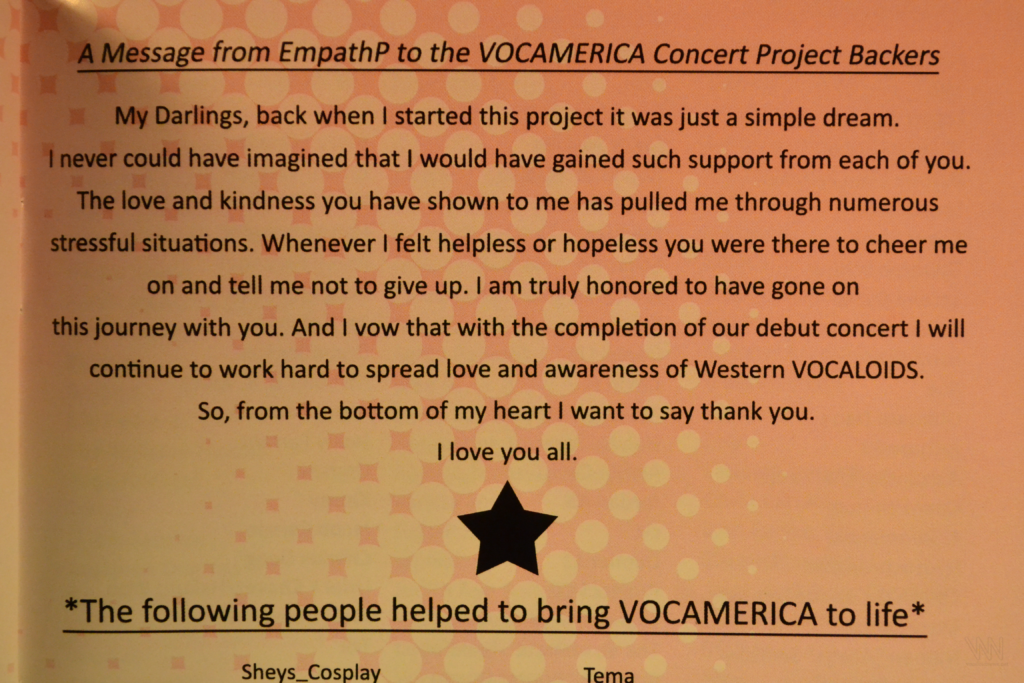 "A Message from EmpathP to the VOCAMERICA Concert Project Backers

My Darlings, back when I started this project it was just a simple dream. I never could have imagined that I would have gained such support from each of you. The love and kindness you have showed me has pulled me through numerous stressful situations. Whenever I felt helpless or hopeless you were there to cheer me on and tell me not to give up. I am truly honored to have gone on this journey with you. I vow that with the completion of our debut concert I will continue to work hard to spread love and awareness of Western VOCALOIDs. So, from the bottom of my heart I want to say thank you. I love you all."
Tracklist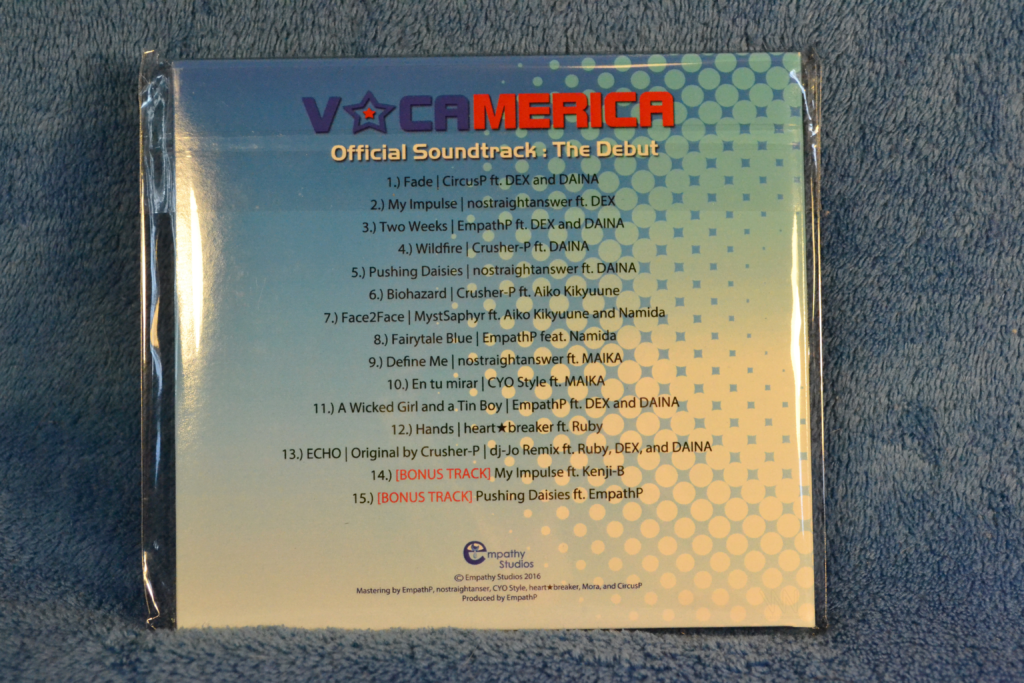 Music Review
Of course, an album review wouldn't be complete without actually reviewing the music! As mentioned earlier, the album contains a mix of new, old, and remixed songs. It also includes every singer from the debut concert of VOCAMERICA, plus DEX's and DAINA's voice providers (EmpathP and Kenji-B).
If you love English VOCALOIDs, this is a must-have album. It features a wide arrange of English VOCALOID songs as well as one Japanese song featuring Namida. Big name Western producers all came together to make this album, and it definitely shows!
I was so happy to finally be able to hear the full version of "Fade," which was teased ages ago back before DEX and DAINA were even released.
But even the remixes and covers were amazing! The "ECHO" remix by dj-Jo is definitely one of my favorites, and when I get "Wildfire" stuck in my head now, it's the DAINA version on the album! (Sorry, GUMI.)
In addition, I have to mention the bonus tracks. It's always interesting to hear voice providers sing songs their VOCALOIDs have sung! And this is no different. If you're working and listening to the soundtrack, be prepared to not recognize Kenji's cover of "My Impulse." I thought it was DEX's and got very confused when EmpathP's cover of "Pushing Daisies" ended and my playlist looped back to "Fade." I was like, "Where's Kenji's cover?!"
Overall, it's incredibly enjoyable and has definitely made its way into my must-have songs. It's a great compilation of so many awesome songs and definitely brings the VOCAMERICA hype with it.
How to Purchase
If you'd like to purchase this album, you actually can! It's still available on Storenvy and will ship internationally. However, supplies are limited, so grab it while you can!
About VOCAMERICA
If you've managed to miss our coverage of VOCAMERICA, we do have an article here that talks about the concert project. Be sure to check it out if you're curious about what VOCAMERICA is!
And be sure to stay tuned for part two of the merch review where I'll be covering all the Kickstarter goodies!