The upcoming VOCALOID Yumemi Nemu that is set to release on the 16th of this month will be featured in the upcoming game Groove Coaster 3EX: Dream Party coming out this spring! The arcade game was demoed today at Japan Amusement Expo 2017 (JAEPO).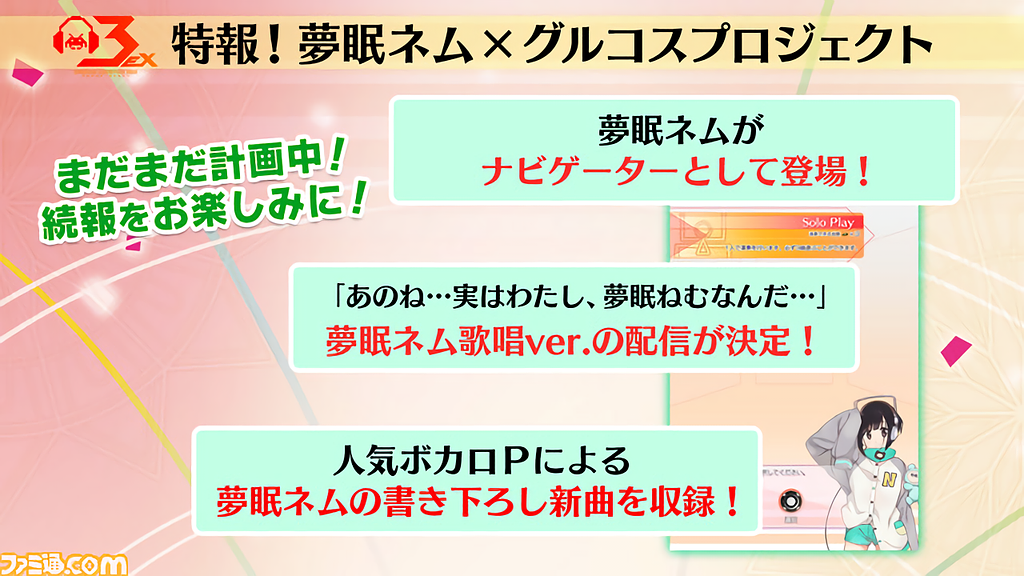 The Collaboration
Yumemi Nemu's demo song "Anone… Jitsu wa Watashi, Yumemi Nemu Nanda…" (VOCALOID ver.) will become a playable song in the game!
2. Yumemi Nemu's newly created original songs from famous VOCALOID producers will also become playable songs in the game. We do not know what these songs will be or who the producers are yet, but we will make an update as soon as we have more information on this. Stay tuned!
3. With the new "Navigator Switch" function, players will have the option to choose Yumemi Nemu as their game navigator! She will appear to give guidance and comments on the music selection screen, as well as before and after you play the game. Therefore, whenever you play the game, you will always see Nemu's face on screen.
Note: There is no mention of Tone Rion V4 at the moment.
Links (Japanese)
More information on Yumemi Nemu and Tone Rion V4 can be found here.