Earlier this year, VNN reported on the collaboration event between Yumemi Nemu and the arcade rhythm game Groove Coaster 3EX Dream Party. That event is now live, and Groove Coaster players can earn some nice Nemu-related rewards, including early access to several songs in her upcoming album!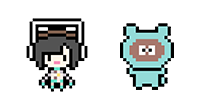 Yumemi Nemu's appearance in Groove Coaster 3EX Dream Party is a two-week-long event in which Nemu and her pet, Tanu-kyun, are available as navi and avatar characters whom players can purchase with EP (Event Points) that they earn by playing throughout the event. Furthermore, with enough EP, players can also unlock Nemu's demo song, "Ano ne… Jitsu wa Watashi, Yumemi Nemu Nanda…" (VOCALOID version) to play in the game! Various Nemu-related titles can also be earned!
Here is a full list rewards, titles, and in-game items that are up for grabs:
50 EP: Title "I Love Yumemi Nemu" + SAFE x5
100 EP: Title "Yume Mist" + GC BOOSTER x5
200 EP: Title "Onigiri Musha~ri!" + SAFE x5
300 EP: Title "I Love Tanu-kyun" + SUPER SAFE x5
400 EP: Title "Anzen Unten Onegai ne" + Tanu-kyun pixel avatar + NO WAY x5
500 EP: Title "Sexy Politician" + HIDDEN x5
600 EP: Title" Lovely Technician" + LONELY x5
700 EP: Title "Eien no Mahou Shoujo Miman" + Yumemi Nemu pixel avatar + MIRROR x5
800 EP: Title "S-Rank Wonton Noodles" + SUDDEN x5 + Song "Ano ne… Jitsu wa Watashi, Yumemi Nemu Nanda…"
900 EP: Title "Yumemi-ken no Jouren" + REVERSE x5
1000 EP: Title "Pure Otome (бωб)" + STEALTH x5 + Yumemi Nemu as a fully-voiced navi!
Players can also earn the following titles depending on their rankings compared to other players during the event.
Good Performance Award (Rank 1 through 1500):
Title "Mie no Kuishinbo" + MAX BOOSTER x10 + 4 trophies
Excellent Performance Award (Rank 1 through 1000):
Title "Mint-Green Space" + JUST x10 + 4 trophies
Bronze Award (Rank 1 through 500):
Title "Kagayake! Midorium!" + NOTHING x10 + 3 trophies
Silver Award (Rank 1 through 100):
Title "Kimi ni Nemu-kyun-kyun" + IMPOSSIBLE x10 + 2 trophies
Gold Award (Rank 1 through 50):
Title "N・E・M・U・G・O・D" + PERFECT PLAYER x10 + 2 trophies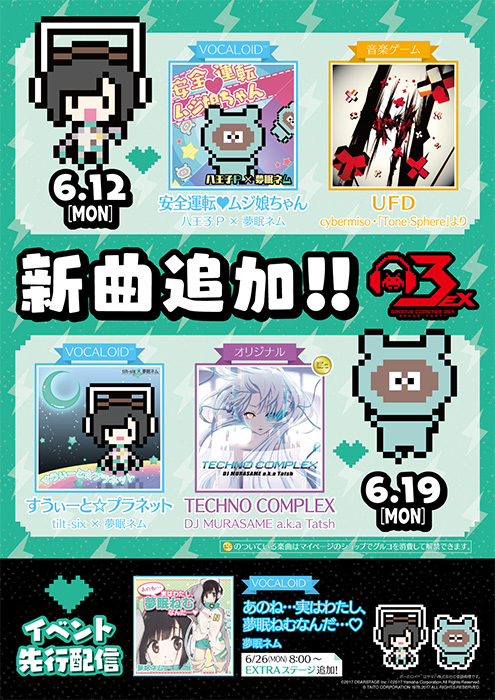 Finally, numerous songs and their stages will be available for play during the event, including two tracks that can otherwise only be heard in the upcoming VOCALOID Yumemi Nemu compilation album to be released on July 5th!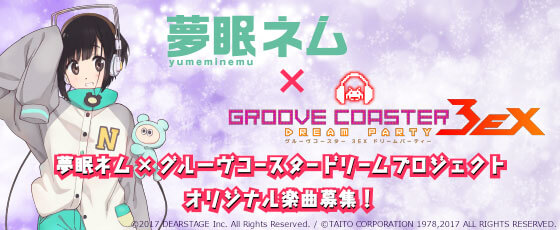 In other exciting news for Nemu fans, Denpagumi has announced the Yumemi Nemu X Groove Coaster Dream Project song contest! The contest is being held on the music hosting site ARTIST CROWD, and winning song entries in the contest will be used in Groove Coaster and other game soundtracks!
Details for the contest are as follows.
Rules
Create an original song using VOCALOID 4 Yumemi Nemu. (Any VOCALOID may be used for preliminary rounds, but Nemu must be used for songs that make it to the final round of judging.)
Original songs only; songs that have been previously uploaded online or are contracted to other publishing companies are not allowed.
Song entries must not infringe on any third party rights.
Song lyrics must also be submitted via the provided lyrics form.
Song lyrics cannot quote or reference other songs.
There is no limit to the amount of songs that a single entrant can submit.
When finalists are chosen, song data must be supplied for the sake of brushing up.
Taito Corporation will purchase the copyrights for any winning songs.
Any adjustments to winning song entries must be agreed upon by all parties.
Schedule
June 16th: Accepting entries
July 31st: First-round entry deadline
August 11th: Announcement of those who passed the first-round selection
September 4th: Second round entry deadline
September 15th: Finalists announced
End of September: Final judging
Judges
Special Guest Judge
Judging Criteria
Quality and totality of the song arrangements
Length of the song (2 minutes in length)
Use of Yumemi Nemu in the final round of judging
To enter the contest, you will first need to sign up for ARTIST CROWD here, and then register for the contest here.
Official Links
ARTIST CROWD Contest Page
Groove Coaster Official Site
Denpagumi's Official Twitter