VOCALOID News Network had the chance to interview Lia, the voice provider of IA during Anime Expo. This interview was done by Cowfee, since as we previously mentioned, she would be attending Anime Expo for VNN.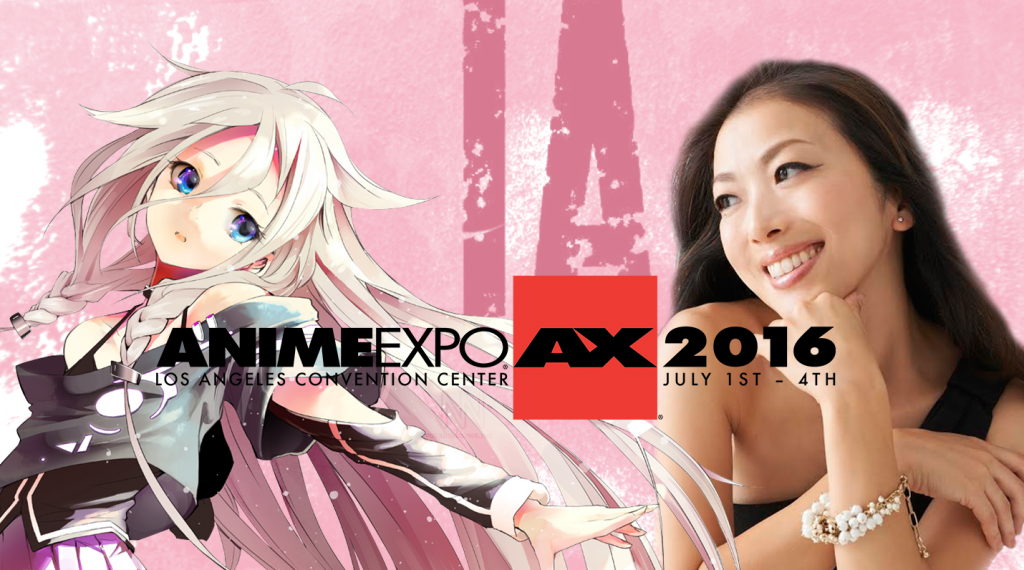 Cowfee: Hello, Lia! First off, let me just say that it is a great honour to meet you and to be able to have this interview with you. Thank you so much for your time and coming to Anime Expo this year. I apologize in advance for the time it will take for me to record this interview by pen and paper, but I am grateful for your patience.
Lia: Thank you so much! It's no problem and it's okay.
Q1. Did you know about VOCALOID before you were approached to voice for IA?
A1. No, but I knew who Hatsune Miku was. The president did explain to me before, so I did know, but I didn't know how she worked or who she was. I didn't know it was a software from Yamaha, but all I knew was that I heard her singing somewhere before, haha.
Q2. What was it like during the process of recording? The most difficult part?
A2. It was… people and artists may find it very difficult because it was a long-ass recording, but I found it interesting because I love studios and recording. But it wasn't like singing and I explained that at the IA concert screening earlier today that it was a whole recording of just word to word. It was probably boring to many artists, but it was very interesting. You find it crazy after eight hours a day sometimes, but after all you find that VOCALOID is a great resource… it was fun! On a side note however, IA ROCKS was very hard because my voice isn't very "Aaaahh!" But the manager said that I needed to do it stronger and I was afraid I would strain my voice. I was also pregnant at the time.
Cowfee: Wow, pregnant! That must have been a pretty interesting experience for the baby, haha.
Q3. How do you feel about the tremendous support and love for IA from her fans and producers?
A3. I think it's great! I really didn't know what VOCALOID was before but IA is so cute, pretty, the colours, how she looks, how she sounds. Even though she is based off of me and I can hear the similarities, she can sound so different from me… she can sing any note so I envy her, haha. At first I was actually scared of her because I thought she would take my position! But she is everywhere lately and she can go all over the world, so I think it's great.
Q4. Did you think IA would become this popular when asked to voice her?
A4. No. That's an unexpectable thing when you create products or music. My very first song "Tori no Uta" for example… I didn't ever believe it would become so popular! But at the time I thought it was so cool and took the opportunity. I found it great that the president promoted Lia with IA because there are many people in the new generation who know IA but not me. I think it's a good way to promote me in two ways, like two people. It's a great tool.
Q5. How does it feel to sing with IA or see IA sing?
A5. Well… it's weird. This is new technology and I'm still surprised to see IA singing by me. I never really imagined this happening. Also, there's a tool with her "talking" option and it's crazy! With such great technology, I can't seem to catch up.
Q6. What kind of relationship do you have with IA?
A6. Hmm… good friends? Hahaha, I don't know! She's going all over the world, she's so fast that I can't catch up. We sang together, we collaborated on stage… Oh, the first time the management had a 10th anniversary concert in Tokyo, me and IA collaborated on stage. People seemed to be surprised to see both of us but I felt weird about it. I mean she's so skinny and pretty, but my manager said that it was fine so I decided "Okay". It's a weird feeling standing next to a virtual artist, but everyone enjoyed my music, our music, so hopefully we can collaborate and make more appearances on stage together.
Q7. What is your favourite thing about IA?
A7. I like her looks first, haha! She's so cute and you know, many of the other VOCALOID characters are lame. They are very how you say "idol-like", and the first time when we were deciding what the illustration for IA would be we decided not on vivid colours but very soft ones. But people said it wouldn't sell because people like the vivid colours and idol looks. But I felt that she represented me and I want her to look cute and pretty, but I was really satisfied when I had the first look of her design, it was great. I thank Akasaka Aka-san! He did a great job. Everyone loves IA, how she looks, and for the sound… well, it's just me, haha. The package is great, as there are huge details and it's very artistic, nicely done. I am very satisfied with her.
Cowfee: Well, I am also very satisfied with her. In fact, so much more than that because I love IA so much!
Lia: Oh, thank you very much!
Cowfee: You're welcome!
Q8. Finally, would you like to say anything to your fans who support you and IA?
A8. Thank you all for supporting me always. It really encourages me whenever people say things like "You inspire me!", and in normal life it's hard to recognize that there are many people who actually know me and listen to my music while cheering me on. It's a great feeling to know that people enjoy my music. Thank you for your support and I hope to see them all next year and in the future! I can keep going with their support and love, thank you.
Stay tuned for our recap article for everything else on Anime Expo.