The latest Hatsune Miku collaboration is a continuation of over 400 years of traditional Japanese art!
It seems like with each new Hatsune Miku collaborative project announced, the wallets of many Miku fans suffer a little. Well, according to Hobby Stock website, there's a new collaborative project with artists of an over-400-year-old traditional Japanese art. The project is called Ukiyo-e Woodblock Prints of Hatsune Miku: Tokaido Diva Hatsune Miku, in which ukiyo-e (lit. "pictures of the floating world") woodblock prints of Miku will be made and sold for ¥48,600 JPY (about $485 USD) each!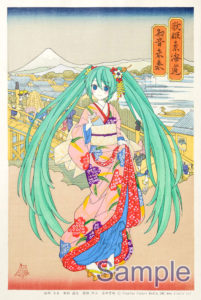 Here we have an example of one of the Ukiyo-e Woodblock Prints of Hatsune Miku: Tokaido Diva Hatsune Miku being produced. Understandably, there are likely many people who think the price is quite high, but reading the official site would tell you that these prints are produced with the utmost, highest quality materials and craftsmanship possible. However, rather than bog you down with a long-winded and hard-to-understand explanation of all the details, I'll just present these photos of the woodblock-printing process with short and simple explanations for each. For more detailed explanations and more photos, please follow the link at the end of this article.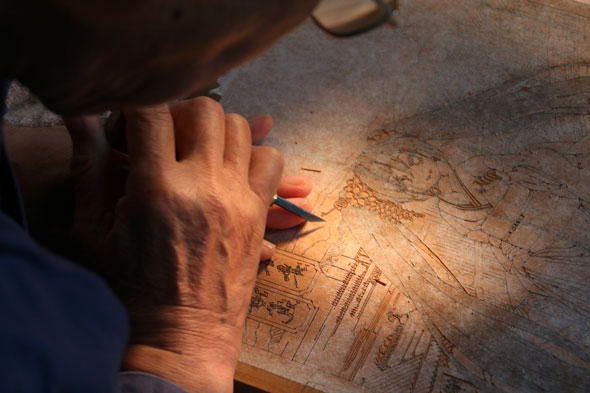 Here we see a master ukiyo-e carver using a chisel to carve out the woodblock image, following a drawing done by an artist from Kyoto. Because he'll need to use a different carving board for each and every color in the image, he has prepared no less than 21 separate carving boards for the project. Suffice to say, it's very delicate and meticulous work.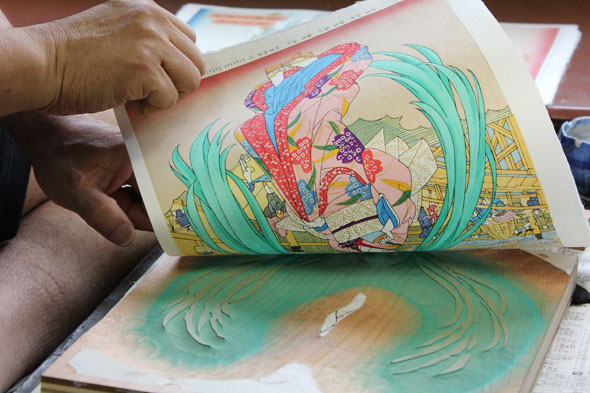 Now, let's take a look at the print process. Using Japanese paper and the 21 boards prepared by artisans at a woodblock print workshop, the artist will press each color from the boards onto the paper, 45 times for each color. Of course, just one small slip and the whole process will have to be done all over again from the beginning, so working with complete concentration is an absolute must. Incidentally, this high-quality paper, known as Echizen Kizuki Bousho paper, must also be strong enough to withstand 45 ink presses against the boards. There will be 100 Miku ukiyo-e woodblock prints made in this manner.
Thus, they intend to put exactly 100 of these Ukiyo-e Woodblock Prints of Hatsune Miku: Tokaido Diva Hatsune Miku on sale. They will be accepting orders on Hobby Stock's Rakuten Global page starting from August 19th, 5:00 PM (JST) to October 19th, 11:59 PM (JST). Those interested in owning Miku ukiyo-e prints made with the highest quality craftsmanship and materials should consider a purchase.
Hobby Stock-Hatsune Miku Ukiyo-e Website (English)
Hobby Stock's Rakuten Global Purchase Page
UPDATE: As of August 19th, 7:00 PM (JST), the writer has confirmed that all 100 of the Hatsune Miku ukiyo-e woodblock prints have been sold out. Whether or not any more will be made or sold is not presently known.
※About Ukiyo-e
Ukiyo-e is an ancient genre of painting that originated in Japan during the Edo Period (between 200 to 400 years in the past). The "ukiyo" in "ukiyo-e" can mean "modern-style," as these paintings were meant to realistically capture the look and feel of scenery that an average person at the time sees in their day-to-day living. Many are printed on woodblocks, but there are also hand-painted illustrations among the earliest ukiyo-e as well. They give the modern-day person a glimpse into the everyday life of someone from Edo-Era Japan, and are thus extremely valuable. (Of course, since the above-mentioned woodblock prints are of Miku, strictly speaking, they thus don't qualify as ukiyo-e, but they can still be thought of as ukiyo-e-styled paintings.) For more information, please consult the Wikipedia page.