Ever wonder how producers got their start? Or what VOCALOID to choose from if you are just getting started?
Aki Glancy happens to own many VOCALOID voice banks. Therefore, I approached Aki to see if she would be interested in giving us some tips on getting started as a VOCALOID producer, as well as how she became one herself.
Who Is Aki Glancy (EmpathP)?
She is an illustrator, producer of VOCALOID and UTAU music, and she does some utaite work of her own. EmpathP has been asked to do demos for many VOCALOIDs including MAIKA ("Waves of Change") and KAITO V3 English ("Anonymous"). She gained her producer name for creating very emotional songs that tug at the heartstrings of many listeners.
She is also the illustrator for the VOCALOID AVANNA.
---

Monds: How did you discover VOCALOID?
Aki Glancy: Well, I actually learned about Vocaloid back in the fall of 2008 through someone's fan made CaramellDansen video. It featured 3-D animated Nendoroid versions of the Vocaloids that existed up to that point, dancing to the song. As I was an animation major in college at the time, my first assumption was that the models used in the video, were models ripped from a video game (as that was something popular that was occurring at the time). But, when I looked up the term "Vocaloid". I instead found out about the software and the slowly but steadily growing musical phenomenon it was bringing to the world.
[nnd src=2321776]
Monds: That is an interesting way of discovering it, at least you learned about it the proper way, a lot of new people to VOCALOID started off thinking it was anime haha.
What made you want to become a producer?

Aki Glancy: The funny thing is, I never actually wanted to be a producer. I had thought about it before, although on my birthday in 2009 (a few months after discovering Vocaloid), I DID buy my first Vocaloid (MIRIAM) and played around with the programming. But, there was something about it that I was having a hard time grasping. So, I decided to be a casual fan and simply admire the music others were creating.
It wasn't until I befriended a UTAU producer by the name of MystSaphyr that I got into the "production" side of things. Myst convinced me to make my first UTAU. After I had, I found that I REALLY enjoyed using the UTAU program and making covers. Around that time, another friend of mine named Circus-P made his first original song ["Creepy Toast"]. It was really well received and I thought to myself "Perhaps I should give making a song a go."
I already had training in music theory and piano, all I needed was the tools. I made an inquiry on twitter and one of my little girlfriends suggested a program called Mixcraft 5. I downloaded the free trial and within 2 days I had composed my first original song. The rest was history. I ended up turning to music production to ease the stress of my work with animation (which I just didn't feel the same passion for).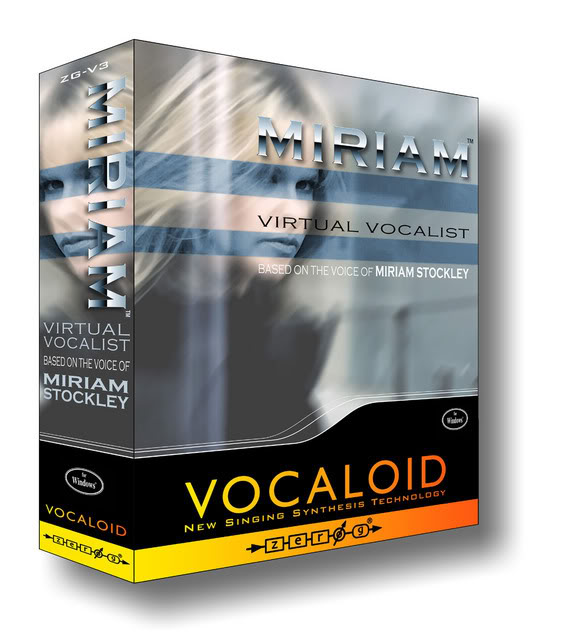 Monds: I can imagine MIRIAM being a V1 VOCALOID and the technology being young at the time, it would be more difficult to start in VOCALOID then it is nowadays. It does seem you know many people in the industry and many people seem to know you as well.
I have seen your video of VOCALOID recommendations on YouTube speaking of beginner, intermediate and expert VOCALOIDs. I can see you own many of them and have some experience with a wide variety of VOCALOIDs, is there one specifically you would recommend that you prefer to use over the others?

Aki Glancy: Yes, in my video I list quite a few Vocaloids I would recommend for beginners. Let me give you a smaller list for now.
For producers planning to make Japanese music or covers, I recommend ANY of the Crypton Future Media Vocaloids (Miku, Kaito, Meiko, ect.). They hold pitch extremely well and are the easiest Vocaloids I've ever worked with.
For English users, I would recommend Avanna and Yohioloid. Both of them have some of the most understandable English pronunciation.
Now, currently I don't have Cyber Diva, but I AM working with 2 brand new American English Vocaloids who are currently slated for release in Summer of this year. Their names are Dex and Daina. I believe they will be very attractive to beginners because of their voice types and how easy they are to use.
Another American English Vocaloid named Ruby is also going to be released soon. I've worked with her early beta, back when she was still a V3 and she was fantastic.
And finally, if you want to use Spanish, any Voctro Labs Vocaloids (Clara, Bruno or Maika) are EXCELLENT.
Monds: I see many people ask what VOCALOID they should start with, I myself have been asked this question. I am sure this will help them on deciding the one to start with. I have heard Dex and Daina. I was at both of the streams, the announcement and your follow-up. They sound really great and clear for English VOCALOIDs, I am excited to hear more of them in the future.
Monds: How did it feel to be contacted by ZERO-G about Avanna?
Aki Glancy: When Zero-G contacted me to work on Avanna, I was shocked. I had previously sent them a portfolio of works, but the intention of that inquiry was to make music demos for their new Vocaloids. The fact that I was chosen to do artwork instead was remarkable to me.
Monds: I can imagine you were shocked, I think most artists would be honored to be asked to do the art for any VOCALOID. It seems to have given you a much closer relationship with Zero-G as well.
Any other tips for new producers just getting started? I know making the decision to start producing music isn't always an easy task when you're not sure how to go about it.
Aki Glancy: I have 2 primary things I would like to say to new producers:
1.) Take the time to learn music theory if you don't already know it. This will help you SO MUCH in the future when you make your own music. It's very easy to learn and you can find numerous free instruction videos via YouTube, as well as several different websites that also give the basics.
2.) DO NOT become a Vocaloid producer to become famous.
I think there's still a lot of young UTAU or Vocaloid fans out there who think "If I make an UTAU of my own or start making music, I could become really famous and get to do a lot of things!" This truly is not the case.
Vocaloid producers like myself, Circus-P, Kenji-B, AdyS and others have only gotten our status through a LOT of hard work and determination. And we KEEP doing what we do because we LOVE it.
In the end, Vocaloid is still not an established phenomenon here in the US. The chances of you being signed to a record label or getting any kind of TRUE recognition from the music world for what you do, is slim at best. If you want to become an UTAU or Vocaloid producer, do so because you LOVE the medium and you LOVE music; and also that you wish to share that with the world.
Monds: Great words of advice for anything you enjoy. You should always do it because you love it and not for the fame. If you truly are passionate about what you do people will take notice of your great work even though it may take some time.
Is there a song that you have made that is important to you, one you wish everyone would hear?
Aki Glancy: I think the song I would recommend to anyone new to my music would be a song I wrote called "Witness". It was a song I wrote for Crypton Future Media as a demo for Meiko's new English voice bank and it's one of my favorite songs that I have composed.
Monds: My last question will be, is there anything you would like to say to the readers or even to the people who enjoy what you do?
Aki Glancy: To your readers, I would like to convey my deepest and sincerest love and thanks. I would be no where in the world without the support they've given me. I would like to encourage everyone to PLEASE continue to support English Vocaloid releases, from English producers to the software themselves. The only way Vocaloid can grow as a phenomenon in the US, is if we continue to show our support to the companies that publish these amazing English Vocaloids.
Monds: Thank you very much for taking the time to answer my questions and share your passion with others. Looking forward to seeing more from you in the future and hopefully others will as well.
Aki Glancy: Thank YOU for all you do to spread the love of Vocaloid. It means a lot.
Monds: Thank you, I'm glad to hear that. I am just a passionate fan of VOCALOID, who's only wish is to share my passion with others and to steer people in the right direction.