Greetings. This is NAT of VNN Japan. After hearing about the Kagurasai 2017 debut CG concert for the newest VOCALOID, LUMi, I decided to attend the event when it was being held on October 29th. Below is my full report on the sights and sounds of Kagurasai 2017.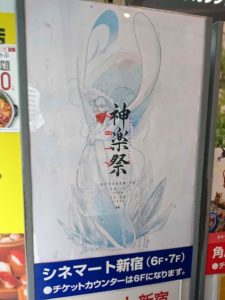 Kagurasai 2017 took place at the [email protected] movie theater. The venue is capable of seating up to 333 patrons, and I estimate that it was 70~80% full on the evening of the concert. The whole event was about an hour long, with the first half consisting of performances and talks with Nyapo。 (にゃぽ。), the singer who was selected by the Nana music community to perform at the concert. The second half, of course, was LUMi's own live CG concert.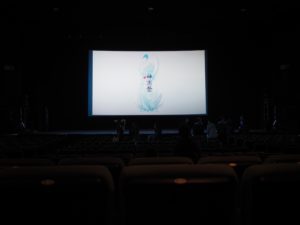 Nyapo.'s Performance
ただいま~♪⁽⁽ଘ( ˙꒳​˙ )ଓ⁾⁾お待たせしました!!約束通りに✨「神楽祭」での、にゃぽ。の超短編動画UPしました。携帯で撮した物だから高画質じゃないけど許してね?(´・ω・`)雰囲気だけでも先に伝わればなぁと思ってます。それと後から、おまけで原宿散歩の画像もあげます。謎w pic.twitter.com/csL2MhYF3t

— 歌い手(にゃぽ。)芸名(花咲いろは) (@irohas1687) November 1, 2017
Nyapo。, the winning entrant in the "LUMi-Uta" singing audition, first took to the stage to sing "Naita Piano" (泣いたピアノ), the winning entry in the "LUMi-Con" original song contest. Afterwards, the M.C. came onstage to talk with Nyapo。 about how she felt when she won the audition. Next came Kengo Shirahama (白濱賢吾) and Uzzy, the song-writer and lyricist (respectively) for the official LUMi song "good night," who also took to the stage to talk about the song.
During these talks, the M.C. mentioned that they're planning to hold more "Kagurasai" events in the future. Perhaps their intent is to turn this event into a yearly showcase for the work of the young creators whom AVA is so intent on promoting.
After the talks, Nyapo。and Kengo Shirahama performed a duet "good night" for the audience, thus concluding the first half of the concert event.
?LUMi✨神楽で「good night」を、作詞された白濱賢吾さんと、コラボデュエットした動画です!!当日のリハーサルで急遽決まったので、ほぼぶっつけ本番な事もあって、ひたすら歌う事に集中するあまり…終始前しか見れてなくて本当に申し訳なくて…?でもコラボも大変勉強になりました。 pic.twitter.com/IVujgtdnkS

— 歌い手(にゃぽ。)芸名(花咲いろは) (@irohas1687) November 4, 2017
You can hear Nyapo。's cover of "Naita Piano" here, and her cover of "good night" here.
LUMi's CG Concert
LUMi's concert portion began with a large image of a Kamakura coastline, followed by a rather long CG video that gives one the impression that they are listening to a fable unfold. After this, LUMi's official music video began playing, which included the following four songs (please note that I'm recalling from memory here, so forgive me if I omit anything, or get the order wrong):
The video included a lot of scenes in which it looked like LUMi's 3D model was dancing and singing in the sea. One such scene was previously shown in a 30-second promotional video on LUMi's official YouTube channel.
https://www.youtube.com/watch?v=8mXTuYP2diY
https://www.youtube.com/watch?v=1u6zjlDpJRc
In between songs, LUMi would stop and read the "Wishes to LUMi" that fans were able to write to her prior to the concert event.
Each of LUMi's official songs featured in her music video can be heard on LUMi's official Nana channel. Although only 90-second versions of each song can be heard on her channel due to Nana's policies, full versions of all but one of the songs were played at the concert.
Finally, the concert concluded with a rendition of "Yoake no Uta (夜明けの詩)." Throughout this portion, the closing credits were rolling, showing the names of the whole LUMi staff, as well as all entrants in the "LUMi-Uta" and "LUMi-Con" contest. Also shown on screen were various LUMi fan art that were uploaded to Twitter with the hashtag #るみーつ.
"Naita Piano" Redo
Because there were some mic problems that occurred during the first half of the concert, Nyapo。was able to come onstage and perform "Naita Piano" again after the CG concert portion was over. And with that, Kagurasai 2017 came to a close.
LUMi Exhibit
Also at the venue was an exhibit of illustrations by LUMi's official character designer, Fugin Miyama, showcasing the evolution of LUMi's design and creation.
Gifts: Community Magazine "Shinkai" Launch Issue; "Dress-Up LUMi"
Everyone who attended Kagurasai 2017 were given two special gifts: The launch issue of LUMi's community magazine, entitled "Shinkai," as well as a "Dress-Up LUMi" board.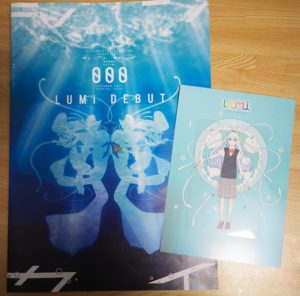 In the "Shinkai" magazine, readers can find the illustrations uploaded with the Twitter hashtag #るみーつ , read the "Wishes to LUMi," learn about LUMi's design and universe creation, read introductory tweets about LUMi, and more. Written on the last page of the magazine is their mission statement, to promote "creation."
Visitors were also given a "Dress-Up LUMi" board to play around with, which allows you to freely swap stickers of LUMi's default outfit, or her school uniform onto her visage.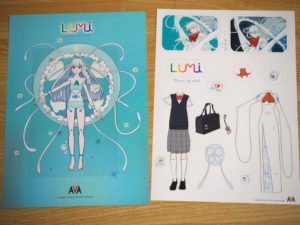 Conclusion
I attended this event because I wanted to get to know the new VOCALOID LUMi more, and why her management team created her. And after attending this event, I feel that I've come to understand her a little better.
From watching LUMi dancing and singing gracefully in the sea during the CG concert, I see her as a girl who has both a mysterious and otherworldly side, as well as a cute and adorable side. What lingers in my mind the most is the way in which the large jellyfish umbrella on her back, and the hem of her long white dress would sway and move throughout concert.
It was even mentioned by the M.C. during the talk sessions that future Kagurasai events are being considered, possibly turning this event into something of an annual presentation ground for young creators and their works. Through their community magazine, "Shinkai," they reiterate how it's their mission to promote "creation."
I very much look forward to seeing how LUMi continues to grow from here on out.
Official Links