With less than $400 USD to go (as of the time of this article) until the AVANNA stretch goal, EmpathP has announced a new reward tier for the VOCAMERICA Kickstarter as well as a bonus if $8,000 USD is reached by July 16th.
This reward tier costs $150 USD and is above the $100 Platinum Package tier. It includes everything from the previous tiers which we talked about in a previous article, plus two more keychains and a plushie.
Keychains
As promised, the $7,000 stretch goal brought more keychains with it. The Diamond tier gives donors the choice of two more keychains featuring any of VOCAMERICA's other performers: Aiko Kikyuune, Namida, MAIKA, and RUBY. The DEX and DAINA, keychains from the previous tier are included as well, so fans who choose this tier will receive four keychains in total.
There will be Kickstarter-exclusive designs for all of these keychains. Kickstarter backers can vote on the designs they want to see by checking out this post.
EmpathP confirmed that while she can't edit the descriptions of the tiers, backers will have the option to choose keychains other than DEX and DAINA in the $15+ USD and $20+ USD tiers.
"Second, when it comes to the rewards, you WILL be able to ask for the idol of your choice. However, you can only get as many keychains as your reward allows. So, if you have gotten the Golden Reward package, and instead of getting a DEX and DAINA Keychain, you want to get a DEX and MAIKA keychain, you will be allowed to do so." – EmpathP's Kickstarter Post
Drafts of the Aiko and Namida keychains are already visible to Kickstarter backers.
Plushies
The plushies will be limited edition plushies of DEX and DAINA by Neko Kitty Studios. Kickstarter backers will be able to get one of the two from the Kickstarter. Both plushies will be available later on in very limited quantities. More money in the Kickstarter means more money to make the plushies, so if you want both, be sure to round up all your friends so that you have a higher chance!
Neko Kitty Studios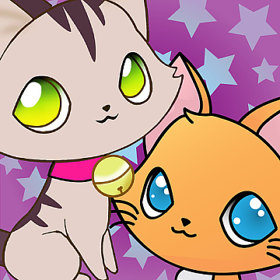 Neko Kitty Studios is a small business that not only sells their pudding plushies at conventions, but also makes the plushies and sells them online at their Etsy store.
While the plushies they make are all based on cats, the cute and simplistic designs are very easy to turn into a fox and a wolf. There are drafts on the Kickstarter available to all backers.
https://www.facebook.com/NekoKittyStudio/videos/1813425865554507/
The plushies stand at about 4.5 inches tall and are made of super soft minky fabric. They're recommended for ages three and up.
*You can find Neko Kitty Studios on Facebook, Instagram, and Etsy.
Below is a gallery showing two of the latest plushies created by Neko Kitty Studios. These are not the DEX and DAINA designs. They're provided simply to give a sense of what the pudding plushies are like.
Bonus Keychain!
If VOCAMERICA reaches $8,000 USD by July 16th, everyone who donates $15 USD or more will receive a bonus Elf AVANNA keychain! This will be a Kickstarter-exclusive item.
If #VOCAMERICA makes $8k by next friday 7/16, everyone who pledges $15 or more gets an exclusive Elf AVANNA Keychain pic.twitter.com/kQbrsiZvwW

— [email protected] (@AkiGlancy) July 7, 2016
For those curious, adding AVANNA will result in the following keychain totals:
$15+ USD: 2 keychains (1 chosen keychain + AVANNA)
$20+ USD: 3 keychains (2 chosen keychains + AVANNA)
$150+ USD: 5 keychains (4 chosen keychains + AVANNA)
How to Donate
The VOCAMERICA Kickstarter will be open until July 28th. Those interested in donating can find the Kickstarter here or visit it via the widget on the side of our site. Remember that the $8,000 USD stretch goal unlocks AVANNA. After that, it's $10,000 for OLIVER!
More Info
For more information, check out VOCAMERICA's Kickstarter as well as all of our VOCAMERICA articles!
Kickstarter
VOCAMERICA Live Stream Recap
VOCAMERICA Kickstarter is Live!
VOCAMERICA Performers Announced
VOCAMERICA Kickstarter Stretch Goals Announced
VOCAMERICA Q&A Stream Recap
DEX MMD Model Revealed for VOCAMERICA!