Hello, I'm Cowfee, the head editor of VOCALOID News Network! Last week from Friday to Monday (July 1st-4th), I was able to attend the largest anime convention in the world known as Anime Expo, located in Los Angeles, California. Though I'm certainly no stranger to AX and its chaotic, crowded ways, this was the first time I would be representing VNN there, albeit under short notice. As a result, I was even more exhausted (if possible) than I was last year, but those four fateful days were also the most fun I have ever had! This is the one convention you absolutely cannot miss attending at least once in your life if you're an avid fan of anime (and VOCALOID!), but I digress. Now, where do I start?
Lia and IA
As we announced in a previous article, Lia joined this year's convention as the acclaimed "Guest of Honour" along with IA, the popular 1st Place VOCALOID she voiced for. The famous singer appeared in various events and panels over the weekend, including the Welcoming Ceremony, IA screening, her own signing session, and the Masquerade. Unfortunately, I could not get into the IA concert screening due to an attendance cap (not enough room), but I checked out the 1st Place booth several times nearly every day to marvel over the television screening of some of IA's live performances, merchandise of Lia and IA (including Kagerou Project), and the hordes of fans that would come over to visit daily. The setup was very similar to last year's booth, but with a lot more Lia!
Speaking of Lia, her autographing session was held at the 1st Place booth located in Exhibit Hall on Sunday. However, opportunity was extremely limited due to the singer's busy schedule, so only the first 50 customers who purchased one or more of her featured albums from the booth would receive a pass to be able to attend. Luckily enough, I was number 48 of the lot, but later learned that the cap was increased to accommodate 20 to 30 more others in response to the sheer amount of demand. Once my turn came up, it was a dream come true. Being able to meet Lia in person and have her sign my merchandise (IA/03 -VISION- and Lia*COLLECTION ALBUM Vol.2「Crystal Voice」) was so nerve-wracking that I completely forgot to ask for a picture! Fortunately, I would gain another chance later that day when I was offered the amazing opportunity to interview her.
The interview with Lia was conducted in English, as she knew and spoke the language well, most likely from her time in the United States where she went to college. Because she would be preparing for the Masquerade soon, I was only given 15 minutes, but that was more than enough time to sate my curiosity about her experience with IA, as well as share plenty of laughs and pleasantly surprising moments with the charming vocalist. Needless to say, I'm highly honoured to have been able to meet and speak with Lia. You can read the entire interview on our website here.
Everything VOCALOID!
While the only panels/events of VOCALOID was the IA screening, Artist Alley, Exhibit Hall, and Entertainment Hall were bursting with the fandom everywhere you looked. This year, I did not explore Artist Alley as much as I would have liked, but during the short periods when I had, there was plenty of VOCALOID fan art by the multitude of talented artists featured there. Unsurprisingly, Hatsune Miku was the main depicted star, with the rest of the Cryptonloids popping up occasionally. I had to restrain myself from purchasing a print of Miku in the guise of an adorable artist herself. Due to a majority of artists who requested not to take pictures, however, I respected their privacy and did not take any. If you're curious though, this year's Artist Alley was relocated to the lower level parking lots (called Kentia Hall) instead of near the back of Exhibit Hall as it had been years prior. This is due to the increase of attendees (nearly 100,000 people), and thus, the need for expansion. The Autographs and Table Top Gaming sections were also placed there.
In my personal opinion, Exhibit Hall is where the REAL fun begins! And by fun I mean sore feet, getting squished a little too close with strangers, keeping a constant radar for freebies, and sitting down for a rest next to a sign that clearly states NOT to sit down. Having spent most of my time here, I took pictures of absolutely everything. It's no exaggeration when I say that almost every booth featured something VOCALOID (usually of Miku). Plushies, figures, posters, games – you name it! The teal twin-tailed diva painted the room with her presence. A few highlights I will focus on though are the Miku Expo skate decks and the official Hatsune Miku cosplay outfit.
"MIKU EXPO Digital Stars" Skate Decks
If you've been to Miku Expo 2016 or keeping up-to-date, Hobby Stock Skate Boards (HSSB) created two stunning skate decks for the "MIKU EXPO Digital Stars" event. They held an exhibition at AX, displaying and selling the breath-taking designs by MONQ and KANZAKIHIRO. Under the limelight, skateboarders, VOCALOID fans, and Miku cosplayers alike all flocked to the display to bask in the glory. I'm certain that many admirers wished they could skateboard for the sake of acquiring the rare beauties, myself included.
Official Hatsune Miku Cosplay Outfit
During the last day of the con (Monday, July 4th), I almost completely missed the Fine Horse Workshop booth. Sure glad that I didn't, because there they were announcing the release of an officially licensed Hatsune Miku cosplay outfit! Complete with sound-activated luminescent sleeves, working headphones able to take calls, and a tie that can be loosened by just pulling downwards (very important!), all in one immaculate, comfy replica that perfectly covers every little detail from the original, Miku cosplayers are in for the biggest treat of their lives! I was able to test out the headphones for myself, and even though I don't cosplay, the idea is starting to sound very tempting. Pre-order dates and price information will be released sometime this month, so be sure to keep on the lookout by following their updates on Facebook.
On a side note, Hatsune Miku: Project DIVA X, Hatsune Miku×Dollfie Dream, and Snow Miku 2016 exhibitions were also there!
Not to be left out, Entertainment Hall kept true to its name and kept hordes of people entertained every day and night. Aside from the famous cosplay sites and gaming area, Goodsmile Racing debuted a gigantic gallery of Figma Racing Miku 2016, along with its past successful years! (I was drooling over the Megurine Luka vehicle for quite a while.) Enjoy the tour for yourself!
Youtaite Gathering
First off, if you're unaware of what "Youtaites" or "utaites" are, they refer to singers who cover mostly VOCALOID (anime, J-POP, K-POP, etc.) songs and upload them online to video streaming websites, such as YouTube and Niconico. The community has been growing rapidly during the past few years, and members often learn and have skills in not only singing but also mixing, animating, and much more. Being quite the collaborative and social group, members quickly make life-long friends and wish to meet each other offline. Through this, the annual Youtaite Meet-Up at Anime Expo was born, and this year on Saturday saw to the largest turnout ever — counting well over 50 people, with the youngest being just 11-years-old!
Similar to last year's gathering, the group started off with icebreakers to introduce everyone to each other. However, because there were so many people this time, name tags were distributed and everyone was separated into six different smaller groups to conduct the activities. After getting to know our group, a competition was held between the groups through the game "Heads Up" where someone holds a word on their forehead and has to guess what it is by asking questions while the others attempt to help him/her without giving the word away. Towards the end of the gathering, everyone took group pictures and mingled among themselves, either meeting new people or uniting with old friends. This year's was extremely fun, and I already look forward to seeing how the next one will play out!
Cosplay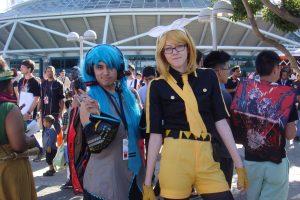 When you're at a convention, cosplay is a must-have! As anime and the likes are widely loved for their characters, it's no surprise that the majority of the fans there would be dressed up and ready to pose for the camera. VOCALOID is no exception, and with the fandom still steadily on the rise, two cosplay gatherings were held on Sunday and Monday. While I was formally invited to attend the one on Sunday by the organizers (whom I met more than once during the con), unfortunately, I was unable to find it! Told that it would be held at Site 5, I spent more than an hour walking around the proposed area at the appointed time but only found a few other cosplayers as confused as I was. Thank goodness I had asked a fellow co-worker who would be attending the gathering in advance to take as many pictures as he could for me. According to him, it turns out that they had started at Site 5 but later moved to an area south of it, most likely due to overcrowding. As for the gathering on Monday, I was preoccupied with various other things and could not make it.
Anyways, here are just a few of the HUNDREDS of photos taken of the oh-so lovely cosplayers, with their consent and permission to post on the site, of course. (Photos provided by Agatechlo.)
Conclusion
We covered quite a bit through this recap, though it's not even half of the experience overall that can only be found at Anime Expo. Although VOCALOID and all else related was what I could focus on and talk about here, the con is so much more than that and provides an endless venue of anime, cartoons, games, Japanese culture, K-POP — nearly everything a nerd can think of! Plus, you're bound to run into celebrities more often than not (I had the privilege of meeting LilyPichu, Yoshi Sudarso, and cast members of Fresh Off the Boat, just to name a few)!
As always, I had an absolutely exciting adventure here this year and already look forward to the next one. If you can, I strongly recommend and urge everyone who may have just the slimmest chance of attending this con in the future to go. Can't wait to see you guys next year!