The Yuzuki Yukari Racing Car that was teased last week has finally been fully revealed, and this author cannot help but add how awesome he thinks it looks!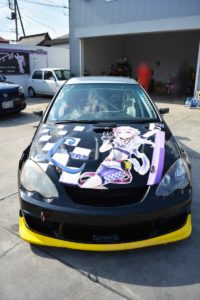 The new Yuzuki Yukari Racing Car is a black Honda Integra DC5 adorned with large decal stickers bearing Juu Ayakura's Racing Yukari design. Its creation was made possible thanks to the generous fan donations to the crowdfunding effort. Furthermore, thanks to the wonders of Twitter and social networking, we can get a good picture of the vehicle's journey from the J.I.O. Create garage all the way to the site of Itasha Heaven 2017 in Odaiba. Let's take a look at some of the highs (and lows) of the debut trek for Racing Yukari's newest baby!
All images, tweets, and information come courtesy of J.I.O. Create, Takahiro Watanabe, Yuu, and Yuzuki Yukari Racing on Twitter.
Afternoon of Friday, March 24th
The Yuzuki Yukari Racing Car is completed and sits comfortably just outside the J.I.O. Create car wrapping garage in Tokorozawa, Saitama Prefecture, looking spunky and ready to represent with all the Racing Yukari stickers decorating it from every angle possible.
Likely feeling a little less comfortable, however, was probably Takahiro Watanabe. Along with his excitement from seeing the car finally completed, he also expressed apprehension from knowing that he'll soon be spending the next two straight days traveling with this car. What a way to bond with your new set of wheels! So Watanabe looked up the best possible travel route to the Museum of Maritime Science (where Itasha Heaven would be taking place), and tried his best to get home from work as early as possible in order to maximize his sleep time before the big trip to Odaiba.
Afternoon of Saturday, March 25th
結月ゆかりレーシング車両。
ホンダ インテグラ スーパー耐久選手権仕様のエンジンサウンドですっ。26日開催の痛車天国 企業ブース『J.I.O Create with 結月ゆかりレーシング』に出展しますっ。遊びに来てね!#結月ゆかり pic.twitter.com/RgmGmVxM8m

— 來夢@じおくりえいと広報 (@JIO_CREATE) March 25, 2017
The Yuzuki Yukari Racing Car.
That's the sound of a Honda Integra Super Taikyu Championship class engine. She'll be on display at the "J.I.O. Create with Yuzuki Yukari Racing" booth at Itasha Heaven on the 26th. Come check her out!
Watanabe fires up the engine for the Yuzuki Yukari Racing Car, which purrs like a kitten. The transport truck then arrives, and it's time to load her up and be on their way!
Late Night/Early Morning on Sunday, March 26th
Watanabe and his team traveled for many hours towards the event site. It was about 4:23 AM on March 26th when Watanabe reported that it started raining really hard. This did not bode well for the event day itself.
They then arrived at the Museum of Maritime Science parking lot safely and earlier than expected, albeit super sleepy. There was no time to rest, though, as Itasha Heaven was scheduled to begin promptly at 9:30 AM that morning. But thankfully, who was there to greet them but none other than the great cosplayer Yuu! Not one to let the cold and rainy weather dampen her high spirits, she was already fully decked out in her stunning Racing Yukari cosplay from WonFes, seeing as she was scheduled to present at an award show later that day on behalf of the xxcross booth.
Morning & Afternoon of Sunday, March 26th: Itasha Heaven
Then came the time to get everything set up for the big day. Itasha Heaven began at 9:30 AM despite the rainy weather, and they needed to make the trip worth it! All that Racing Yukari merch won't sell itself!
The weather may have been cold and miserable that day, but the excitement at the Racing Yukari booth was red-hot! Yuu was even able to spare a few moments from her busy schedule to pose for some closeups with the popular new ride!
It was around midday, however, when Watanabe needed to disappear for a little while to his own car to take a nap (he had been awake for 40 straights hours by that point). But everything otherwise reportedly went extremely well! The Yukari Racing Car even got to meet and mingle with some other Yukari-themed itasha! Maybe the event organizers weren't kidding when they said that participants can find new love on the showgrounds!
At the time of this article's writing, Itasha Heaven had just come to an end. After it was all over, the Yuzuki Yukari Racing Car and booth decorations were loaded back onto the truck, and everyone was ready for the long but glorious trek back home. Well done, Yuzuki Yukari Racing team! Rest up well, and we'll see you next at Niconico Cho Kaigi 2017!
結月ゆかりレーシングカーのお帰りのサウンドもどうぞ!#結月ゆかり pic.twitter.com/seawhMmNMR

— 來夢@じおくりえいと広報 (@JIO_CREATE) March 26, 2017
And here are the sounds of the Yuzuki Yukari Racing Car going back home!
Catch up on all of the past Yuzuki Yukari Racing activities below!
The Yuzuki Yukari Racing Project Goes into High Gear!
Yuzuki Yukari Racing Project Updates: Crystal Plaque Reward Added!
Yuzuki Yukari Racing Project Initial Goods Unveiled!
Yuzuki Yukari at Comiket 91!
Yuzuki Yukari Racing Crowdfunding Concluded + New Video Report!
Winter Wonder Festival 2017 Figure Roundup!
Readyfor Stories: Behind the Wheel of the Yuzuki Yukari Racing Project
New Announcements from Yuzuki Yukari Racing!
Yuzuki Yukari Racing Project Readyfor Crowdfunding Page
Yuzuki Yukari Racing Project Official Facebook and Twitter
J.I.O. Create's Official Facebook and Twitter
Yuu's Official Twitter
Takahiro Watanabe's Official Twitter, Official Niconico Channel, and Mylist